Follow the Bliss...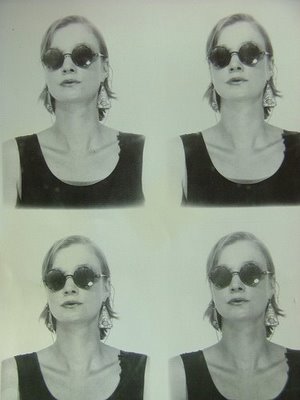 I met Kay on Flickr. I love her and she has become a part of my life.
We send little parcels back and forth to each other and touch base weekly. (There are real friendships that live inside of my computer.) I often wish I could reach inside and give her hand a squeeze.
She has a master eye for collecting and vintage finds.
She is a buyer, stylist, & personal shopper.
Folks all over Europe have her find the special stuff!!! ( she's so cool!)
And be sure to take a peek at her husband's amazing mid-century workshop at their home.
My gal lives in the Netherlands and shares her life with her man and sweet little girl Nila.
I am proud she is my friend and her photostream inspires me each week.
Enjoy her:



I take so much inspiration from music, at the moment I'm in to Motown www.motown.com , Feist,

Kings of Leon.

Also books...milk teeth by Julie Morstad, Loretta Lux and I love biographies( next one on my list is Vivienne Westwood ) and movies like www.manonwire.com , Notes on a Scandel ( love Judie Dench) and I go for Jane Austin( give me some coffee and a good movie)

I am a big vintage collector so I love browsing web shops offering mid century modern furniture.
A few of my favourites are:

These sites give me inspiration for my next flea market trip.

I meet so many inter sting people on flickr and have made some really good friends. They give so much inspiration.

There is Ally from Iceland ,she send me great sweets, Amy from Florida www.amygross.com, my vintage&art friend Sally, my art& book twin from the UK and

Amy (you), one of my first flickr friends...

really, flickr makes the world small and you can learn so much!
Here are some blogs I love
nestledinless is more, Katja in Finland knows what that means
finelittledaysome coffee and Elizabeth, that will keep me busy
book-by-its-cover
Quail by mail love her green living

My three ingredients for a perfect weekend are:
coffee, hubby and our little monster